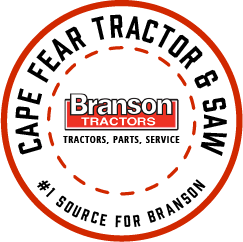 W.R. Long Since 1986
W.R. Long have been manufacturers of Front End Loader and Skid Steer Attachments with a wide arrange of 4N1 buckets, grapples, fork attachments, tooth bars, and much more.
Virtual Showroom
Welcome To
Cape Fear Tractor & Saw
We have a selection of TYM Tractors, Branson Tractors, Hardee, Hooper Trailers, Scag, Husqvarna, RedMax, W.R. Long, and Stihl on-site that you can try out before you purchase. Cape Fear Tractor and Saw offer everything you need for your lawn, landscaping, and farming projects. Test out products from Scag mowers, Hooper trailers, Kohler engines, and Stihl power tools and chainsaws.